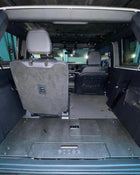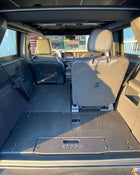 Description
*PLEASE NOTE THAT THERE IS A 8-10 WEEK PRODUCTION LEAD TIME ON ALL GOOSE GEAR PRODUCT AND ORDER CANCELLATIONS ARE SUBJECT TO A 20% RESTOCKING FEE.
No Goose Gear Sales to California Residents. Due to California State sales tax collection requirements, we will not be accepting orders for Goose Gear products from California residents who have their orders delivered to a California address. Orders that are made on our site, will be cancelled and refunded. We apologize for this inconvenience.
The Goose Gear® Ford Bronco 2 Door Second Row Seat Delete Plate System™ is the first of its kind for Goose Gear®, you now have the choice of removing one side of the second row of the 2 Door. This Plate System™ is designed and built with industrial grade plywood and coating using our propriety spray methods for superior durability and wear resistance.
Ford Bronco 2 Door Rear Plate System™ is required for install of the Seat Delete.  
This system requires the removal of the rear factory slide and carpet kit. Does not require cutting or drilling of any part of the vehicle. Once the plate is installed you now have a clean and flat surface, the perfect space to mounting Goose Gear Modules or your own storage system and accessories.

Seat Layout: 
50% Driver Seat Delete 
50% Passenger Seat Delete
Product Updated: 12/14/2022