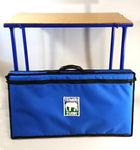 Description
TemboTusk has designed a beautiful, functional Camping Table. The table is designed to fit into most storage drawer systems or other limited space environments. The Camp Tables employ a unique hook and hoop system which enable them to daisy chain more than one table together. Either length wise or width wise.
The Camp Table is constructed from metal and bamboo plywood. The Camp Table comes with an extremely durable carry bag with integral leg storage in the cover. The Table Bag is made of a duel layer heavy weight material with a full wrap 1/2" padding. The interior has webbing on the interior side panels for reinforced tough construction. Marine grade thread is used for rough outdoor environments. Comes with a zippered pocket on the front of the bag, perfect for cutting board and utensils storage.
Assemble Table Dimensions: 15" W x 30" L x 29" H
Disassemble Table Dimensions: 15" W x 30" L x 1.25" D.
The Camp Table is an American Made Product.