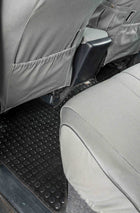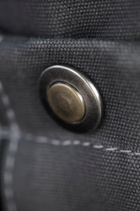 Cool, comfortable, durable and robust, Escape Gears seat covers are guaranteed to protect your upholstery for years to come.

All seat covers ordered through Equipt feature our logo tab!

ADD TO CART: Any seat cover choice that provides an "ADD TO CART" button is in stock and will ship right away.

CUSTOM ORDER (6-8 WEEK DELIVERY): Any seat cover choice that provides a "CUSTOM ORDER" button will be custom ordered for you. Our best estimate for delivery of these custom-made single-batch products shipping from South Africa is 6-8 weeks.

Click for Tips on How To Measure Headrests

Please note that this is a custom order and once ordered is not eligible for return or exchange. After ordering, you will need to send photos of your vehicle's seats to sales@equipt1.com per the manufacturer's requirements.

Emphasis on Safety

At Escape Gear, there is great emphasis on ensuring that seat covers in no way hinder the deployment of a vehicle's driver and passenger seat side airbags in the event of a collision. High speed photography in controlled laboratory tests prove that the specially constructed 'Red Thread' seam in no way hinders the deployment of side airbags. In every test, side airbags deployed to maximum size, with no deforming, within average time of 8.4 milliseconds. This average deployment time exceeds the Motor manufacturers' Industry Standard of less than 10 milliseconds. You can drive safely with Escape Gear seat covers.

Motor Vehicle Safety

Airbags provide added protection and improve the safety of both diver and passenger in the event of a collision and/or rollover crashes. These days, most modern trucks and SUVs have a steering wheel and/or dashboard airbag as well as seat-side airbags that provide protection during side impacts.

How do I check if I have airbags?

To check if your vehicle has side airbags, examine the bolster part of your seat (that is, the side of the backseat closest to your vehicle's door). If your bolster has a sewn-in label that reads, "SRS Airbags", it means that your vehicle is, in fact, equipped with airbags in both driver and passenger seat rests. 

Airbag Design

Before buying seat covers, wouldn't you like to know that the seat cover manufacturer will guarantee airbag deployment? Escape Gear calls this Red Thread Technology. They believe it is absolutely critical that their seat covers do not hinder the airbag deployment in the event of a collision in any way possible.

Specially Constructed Seam

Escape Gear seat covers are manufactured with a specially constructed seam, designed to burst open without slowing down airbag deployment. The seam itself is sewn with a specific breaking strength thread. A specially made side airbag sewing machine is used to sew at predetermined seam interval tension. There are only four seat cover design possibilities to accommodate side airbags; namely a void, a flap, a zip, or a seam. Of all of them, Escape Gear believes the seam offers the neatest, most functional and most practical solution for side airbags.

8.4 Millisecond Deployment

To be of maximum protection in the event of a collision, the driver and passenger side airbags must deploy to full size within 10 milliseconds of impact. Time and again in laboratory testing, maximum side airbag deployment was achieved with an average time of 8.4 milliseconds. 

Tried and Tested

The design must work. Therefore, Escape Gear has done a series of laboratory tests, where vehicle seats are dressed with our seat covers. The side airbag is deployed without failure and is filmed with a high-speed camera to prove this. The footage (provided) is then run through sophisticated software that extrapolates video frames per second, into milliseconds.

 

Safety with a Quality Guarantee

Not only does their protective gear ensure your safety, but these seat covers look great too. All this while also fully protecting your seats ensuring your original upholstery will still be in showroom condition. Don't cover your seats with just anything… adorn them with Escape Gear seat covers – for that unmistakable, authentic African feel.

Fabrics

At Escape Gear, they manufacture custom fit, heavy duty seat covers, dash protectors, transmission covers and a range other vehicle protective gear for your truck or SUV. Our product range can be purchased in either our specially formulated Tough Canvas or Traditional Canvas.

Polycotton Tough Canvas

Extra Strength (Charcoal Only)

Escape Gear FAQs

Why do you need photos of my seats?

Escape Gear requires photos of each international customer's specific vehicle to ensure that what they custom build for you is accurate. This 5 minutes effort upfront could save weeks of delay and hundreds in shipping expenses. We want every customer to be completely satisfied the first time they receive their seat covers, so please email sales@equipt1.com with your images after ordering. You can also call us with any questions.

 

FREE SHIPPING

We offer Free Shipping in the contiguous United States on all brands we import.

National Luna
Eezi-Awn
AluBox
Escape Gear

Orders to Alaska and Hawaii may require additional charges.

EEZI-AWN

Eezi-Awn products will be shipped free of charge.

Due to the size and weight of the roof top tents and rack platforms, we will only ship within the contiguous U.S. using truck freight. We will ship to any commercial address with a fork lift or a loading dock, or a freight facility close to you for pickup. This can be unloaded on a dock with a pallet jack. Smaller items that can be shipped by ground can be delivered to residential or commercial addresses.

NATIONAL LUNA

National Luna products will be shipped free of charge.

Due to the size and weight of the larger fridges (size 110L and larger), we will only ship within the contiguous U.S. using truck freight. We will ship to any commercial address with a fork lift or a loading dock, or a freight facility close to you for pick up. This can be unloaded on a dock with a pallet jack.

ALUBOX

AluBox cases size 10L to 175L will be shipped to a residential or commercial address free of charge.

Due to the size and weight of the larger boxes (size 192L and larger), we will only ship within the contiguous U.S. using truck freight. We will ship to any commercial address with a fork lift or a loading dock, or a freight facility close to you for pick up. This can be unloaded on a dock with a pallet jack.

ESCAPE GEAR

Escape Gear products will be shipped to a residential or commercial address free of charge. We carry a great deal of Escape Gear inventory, and will fulfill all orders that we have from our US facility. In some cases, Escape Gear products are custom-made and built one at a time in Cape Town, South Africa. This means that they ship directly from Cape Town to you. Our best estimate for delivery of these single-batch products is 6-8 weeks. You will be notified of this production and delivery time frame at the time of order. 

TRAIL KITCHEN

Please note that there is a 4-6 week production lead time on all Trail Kitchen products. Trail Kitchen Van Kitchen and Mini Van Kitchen products are shipped by truck freight from the manufacturer. This pricing can vary between $150 to $500 per package based on distance and destination. You will checkout with a zero cost shipping payment and we will contact you with an exact quote and collect payment at that time. All other products ship at a flat rate of $55 at checkout.

GOOSE GEAR

Return, Exchange, and Cancellation Policies

If your order contains incorrect products or has been damaged in transit, documentation and photos are required within 72 hours of receiving the order.
If you are dissatisfied with the product once your order is received, you are solely responsible for return shipping costs.
Products must be returned in original packaging and adequately protected for carrier handling. Returned product will be inspected for damage or evidence that it was installed. Upon return, Goose Gear, in its sole discretion, will assess product's condition for resale. A restocking fee of 20% will be applied to the amount. If product is not resalable, we cannot accept a return.
Once an order is placed, if that order is canceled within its predicted production timetable, you will be charged a 20% cancellation fee.

Warranty Policies

Original Purchaser is eligible for warranty coverage with valid proof of purchase.
All warranty issues will be resolved directly by Goose Gear and End User, where it applies. Goose Gear will communicate directly with End User to review defect and extend appropriate remedies as warranted.

NO MORE, NO LESS

The products we carry vary in size and weight as much as your delivery location. In light of this fact, we will charge you only what it costs us to ship to you, no more and no less. Unless otherwise requested, we will select a shipping option that minimizes cost. We will inform you of the cost of shipping as reasonably soon as possible. We will be happy to ship via Next Day Air, Second Day Air, or Three Day Select if you request it and are willing to pay for it.

SIGNATURE

You spent money on it and we want to ensure its safe delivery. All shipments under $200 will not require a signature for delivery. All shipments over $200 will require a signature unless otherwise specified. Please contact us if you would like to remove this feature from your order. This service is complimentary.

LARGE ITEMS

Please be aware that larger items, including Eezi-Awn tents and racks and Goose Gear storage solutions, which are too large for traditional ground shipping, will require truck freight for delivery, and custom items shipping internationally are not eligible. We offer Free Domestic Shipping on Eezi-Awn tents and racks to a commercial address. Roof Top Tents will require a loading dock or forklift or a freight terminal close by for pick up. Roof Racks will require the ability to receive a large platform box; however Rack Feet and Rack Rail can be shipped to your residence. If you order a tent or rack from our website, contact us by phone or email and we will work with you to secure the most economical delivery of your product we can.

RESIDENTIAL

If you plan to ship a large item noted above to a residential address, please check that option during checkout, and you will be charged a small additional fee.  Because of their size, Hard Shell Roof Top Tents cannot be delivered to a residence.

CANADA & INTERNATIONAL SHIPPING

Equipt is the North American distributor for Eezi-Awn, National Luna, Alubox and Escape Gear.  We have contractual agreements with our vendors to not ship products outside North America. An option for you would be to ship our products to a freight forwarder within the US, where you can arrange to continue their journey to your shores. 

We do offer shipping to Canada. Shipping expenses will apply on all lines.  Contact us directly for costs to ship to your Canadian address. We will not be responsible for any duties or fees associated with crossing the Canadian border to your residence. We ship a lot of products to independent packaging stores all along the US/Canadian border, for Canadian customers to pick up on our side. This option is very cost effective, if you have the opportunity to come to the US.

TURN AROUND TIME

We always work to ship every order as quickly as possible, but we're a small team and we ask that you read our shipping policy so that we can set the right expectations.

Unless an expedited shipping method is requested, it's best to assume that from the time we receive your order during our office hours, Monday through Friday, and add it to our queue, it takes our team a few business days to start preparing your shipment. There is also the additional shipping time based on your location from our warehouse in Salt Lake City, Utah. These transit maps offer a helpful timeline for most orders:

Please note that we do not handle or ship orders over the weekend.

HOLIDAY DEADLINES

Shipping around the holidays can get a little crazy. We do our best to get your packages out within 48 hours, but once they leave our warehouse, it's in the hands of our carriers to handle the rest. Oftentimes they experience delays and unforeseen weather. The best way to ensure your package arrives by a certain date is to expedite the shipping, not wait until the last minute, and even order a few extra days in advance. 

RETURN CHARGES

If your order did not arrive accurately, we will pay the return shipping charges and refund to you the amount of shipping you paid on that particular product. If you received what you ordered but are dissatisfied with it, you will be responsible to pay the return shipping charges and the initial shipping charge.

Please note that order cancellations on Goose Gear products are subject to a 20% restocking fee.