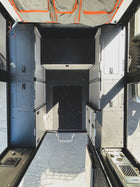 Description
*PLEASE NOTE THAT THERE IS A 8-10 WEEK PRODUCTION LEAD TIME ON ALL GOOSE GEAR PRODUCT AND ORDER CANCELLATIONS ARE SUBJECT TO A 20% RESTOCKING FEE.
No Goose Gear Sales to California Residents. Due to California State sales tax collection requirements, we will not be accepting orders for Goose Gear products from California residents who have their orders delivered to a California address. Orders that are made on our site, will be cancelled and refunded. We apologize for this inconvenience.
Introducing the all NEW interior system for the all new Alu-Cabin, Full Size Canopy Camper. The Rear Double Drawer Module requires the Goose Gear®  Bed Plate System™ installation.
This Double Drawer Module is the perfect addition to the Alu-Cabin interior. Providing you with easy accessible storage for all your gear.  
The Canopy Camper is designed to be lighter and more efficient than previous models. By tying the modules to the Canopy Camper, the installer is able to get a consistent flat surface between the Utility Modules and Drawer Modules. The installation process requires the user to install spacers onto the supplied brackets for proper leveling.
The product options are laid out in the following format and sold separately (See image below):

Drivers Front Utility Module
Driver Middle Utility Module 
Drivers Rear Utility Module OR Double Drawer Module
Bulkhead Single Drawer Module 
Passenger Front Utility Module

Passenger 

Middle Utility Module 

Passenger 

Rear Utility Module OR Double Drawer Module