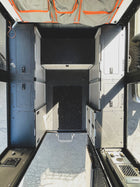 Description
*PLEASE NOTE THAT THERE IS A 8-10 WEEK PRODUCTION LEAD TIME ON ALL GOOSE GEAR PRODUCT AND ORDER CANCELLATIONS ARE SUBJECT TO A 20% RESTOCKING FEE.
No Goose Gear Sales to California Residents. Due to California State sales tax collection requirements, we will not be accepting orders for Goose Gear products from California residents who have their orders delivered to a California address. Orders that are made on our site, will be cancelled and refunded. We apologize for this inconvenience.
It all starts with our Bed Plate System™
We worked with the Alu-Cab team to develop a interior system for the all new Alu-Cabin, Full Size Canopy Camper. This Bed Plate System™  is the foundation for the Goose Gear® interior.
The Plate System™ requires drilling into the vehicle bed for proper and safe installation. Once the Plate System™ is installed you can easily add or remove Alu-Cabin Modules as needed. With integrated anchor points throughout the plate. This Plate System is designed and built with industrial grade plywood and coating using our propriety spray methods for superior durability and wear resistance.
The product options are laid out in the following format and sold separately (See image below):

Drivers Front Utility Module
Driver Middle Utility Module 
Drivers Rear Utility Module OR Double Drawer Module
Bulkhead Single Drawer Module 
Passenger Front Utility Module

Passenger 

Middle Utility Module 

Passenger 

Rear Utility Module OR Double Drawer Module