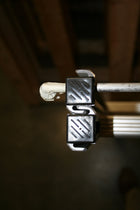 Description
The patented, anodized aluminum ladders from Eezi-Awn are available in two variations--one for the XKLUSIV model and another for the Series 3, Jazz, and Fun models. This option is great for tents bought second-hand with missing components or as a replacement to a lost or damaged ladder. 
Comparison
Series 3, Jazz, and Fun Ladder
 

This ladder measures 79". It can also be combined with the Ladder Extension (sold separately and shown in photos), which lengthens the original ladder by 12" for a total length of 91".

XKLUSIV Ladder

This ladder measures 79". Unlike the standard Roof Top Tent Ladder, which is a set length and offers an extension, this ladder has built in incremental extension. 
Please note that a ladder that is supplied with every Eezi-Awn Roof Top Tent upon purchase; you do not need to purchase separately if buying new.